Do you need assistance with your Dukane ultrasonic transducers? The dedicated crew at BEK Ultrasonics is ready to help you. We service both standard and heavy-duty transducers from Dukane. For your peace of mind, we work with all frequencies, including 15kHz, 20kHz, 35kHz, and 40kHz transducers. Our team manufactures and rebuilds all brands and models, working with ultrasonic metal and plastic welding equipment. We are known for offering the best warranties and prices on our products.
Come to our company when you need help with your Dukane sonic welder. We have been providing services for people all over the world since 1985. When you contact us, you can request a quote for repair or replacement, ask for product information, or request additional literature about Dukane. You can also give us a call at (800) 863-6320 when you have a question about your Dukane ultrasonic welder or any other products our specialists manufacture and rebuild.
Dukane Heavy Duty Converters
Dukane Heavy Duty Probe
41C30 rear mount, 41C30-185 side mount. Standard housing as 110-3122 standard Heavy Duty Transducer but it has the SHV connector to accept a 200-479 ultrasound cable.
Dukane Heavy Duty Sealed probe
Model 41S30 sealed transducer with 24″ cord and 1/4 " OD tubing for air cooling. Also available with SHV connector for ultrasound cable.
Dukane Heavy Duty 20 kHz Transducer
This heavy duty transducer / converter is used with Dukane Ultra Series systems. For use in Dukane heavy-duty press and thruster systems models 43A250, 43A255, 43D255, 43E255, 43A260, or 43B260 press/thruster. Model # 110-3122
Dukane Magnum 110-3122A
Used in 210 and 220 and interchangeable with any Standard Heavy Duty transducer 110-3122.
Dukane Transducer 40kHz 110-3429 for 43A240 press with output thread of 8mm.
For use with 40kHz Press/ Thruster and generators of 700 watts or less.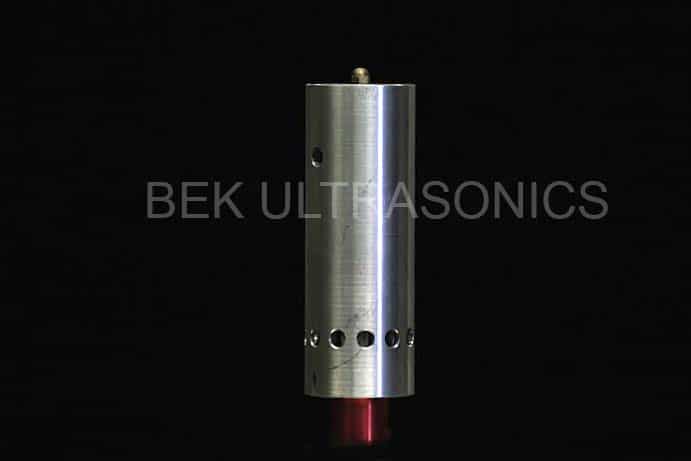 Dukane 41C28 side mount probe
Same as 41C29 but mount on side.
Dukane solid mount 40kHz probe