Ultrasonic Tooling & Horns
BEK manufactures all types of custom and standard ultrasonic horns and fixtures. Whether it is a contoured custom ultrasonic horn or a standard one, we can help you find the right selection for your needs. We supply ultrasonic horns and sonotrodes that are made for plastic and metal welding, as well as packaging, food processing, ultrasonic food cutting, and liquid processing. Furthermore, a Branson ultrasonic horn can be used for textile cutting, sealing, material sieving, degassing and debubbling.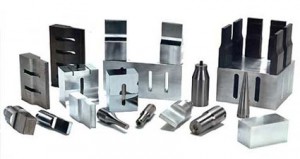 The materials we use for manufacturing ultrasonic horns may vary from aluminum, titanium, hardened steel, or CPM10V depending on your application. We can duplicate any Dukane ultrasonic horn you are using or manufacturing a new one based on your part composition, weld area, and amplitude required. We also resurface and retune worn horns that are no longer in frequency. BEK will test your ultrasonic horn, booster, and converter together and individually for any problems at no charge.
Application Feasibility
We are available to make assembly design recommendations on any of your upcoming applications or trouble shoot your existing applications if there are assembly problems.
Equipment Recommendations
We can also recommend the best process and equipment for your assembly.
Used Equipment is always available upon request.